Wedding

Corporate
Marquee Hire
Wedding Marquee Hire in Hertfordshire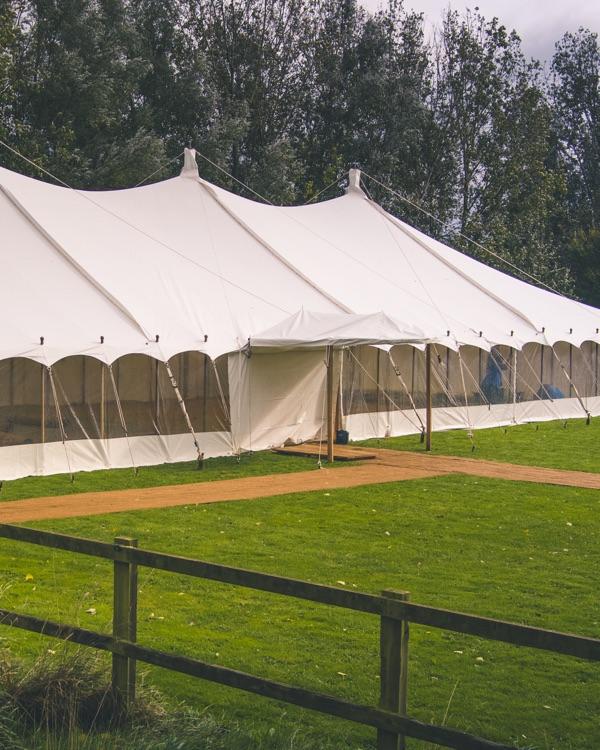 Wedding Marquees
in Hertfordshire
Classic fairytale or escape to the country, a customised wedding marquee gives you the freedom to create an unforgettable event on your special day.
They can be built in almost any location and accommodate any size of event, from a small wedding for family members to a massive celebration with hundreds of guests.
Flexible and customisable, our marquees can be built in almost any location: be it uneven, on an incline or as level as a bowling green, making them ideal for couples looking to embrace the outdoors while creating an intimate indoor experience for their guests.
Simply choose from three different types, traditional pole marquees; clear span frame marquees; rustic / vintage pole marquee , and we'll bring your vision to life.
For more information about how we can help you create the perfect marquee for your next event, call us today.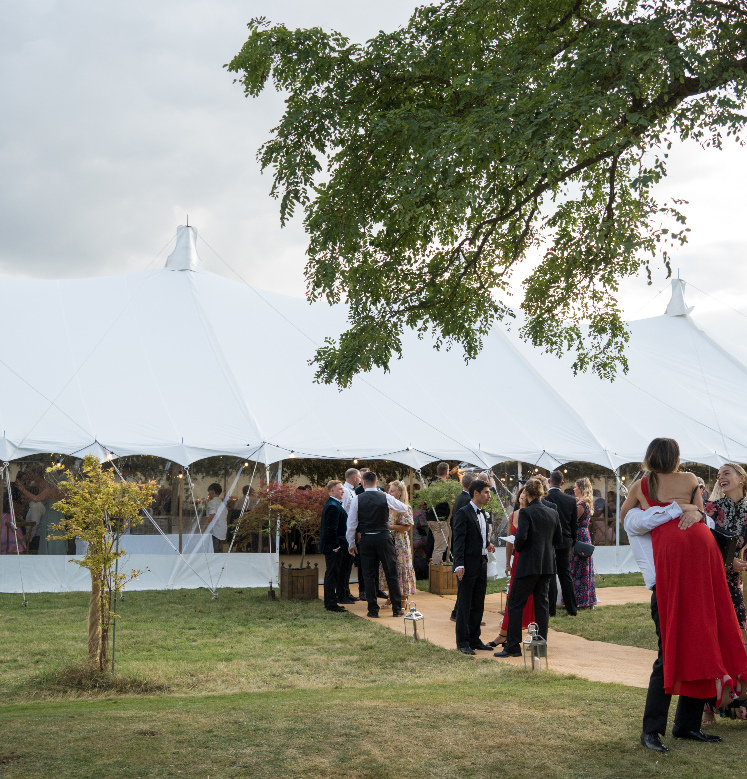 Customise your wedding marquee for a unique theme


Every couple has their own mental picture of the way their wedding day should look, and we want to help make it happen.
That's why we provide a range of options in North London that allow you to create the outdoor space you've always dreamed of having on your special day: everything from simple marquees to those with elaborate lighting fixtures, or tents with fold-out walls.
We know how important it is for your wedding day to be perfect in every way, so we'll work with you every step of the way to ensure each detail is exactly how you want it. With our customisable options, you're sure to find a theme that reflects your unique style.
Learn More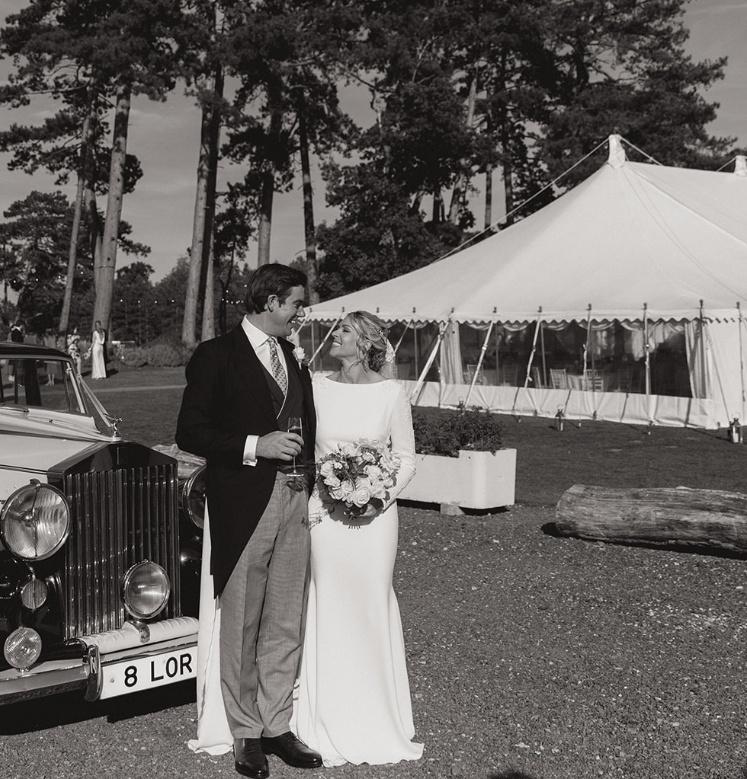 Live in Hertfordshire? Pick the wedding destination that's right for you


A wedding marquee gives you the freedom to select a location that's right for you and your guests, and still create a theme that satisfies your initial vision.
We will construct your marquee in such a way as to get the most out of your chosen wedding destination. By installing a range of options including panoramic PVC window walls, clear roofs and clear gables, we can ensure the location becomes a feature of your destination in a way that only a marquee can.
Whether you're after a lakeside view, a view of the Hertfordshire Chilterns or the Cambridgeshire fens, the location for your marquee is up to you.
Then it's over to us to supply you with a high-quality marquee for your wedding, customised to your specification and delivered with impeccable service.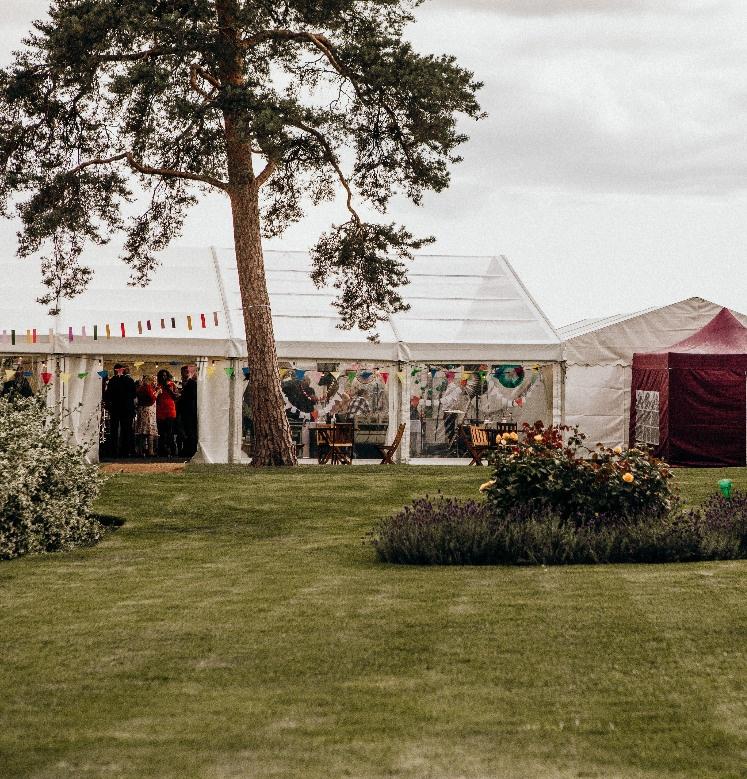 A marquee can be a cost-effective solution


A wedding marquee can be cheaper than a stately home, or going abroad. But will  generally be more expensive than holding a wedding at a purpose-built facility or community hall. However, they do bring incredible flexibility when it comes to setup, party timings and decision-making over which suppliers you use (some venues restrict which suppliers may work there).
Many venues in North London will allow clients to build a marquee on their land for a fee. Our clients have even approached local farmers to enquire about the use of a field, a cost-effective solution for their special day.
Talk to us about your ideas, and we'll help you create an unforgettable experience for your guests - and with our winter rates up to 25% off our summer rates, you'll save a little extra for your honeymoon.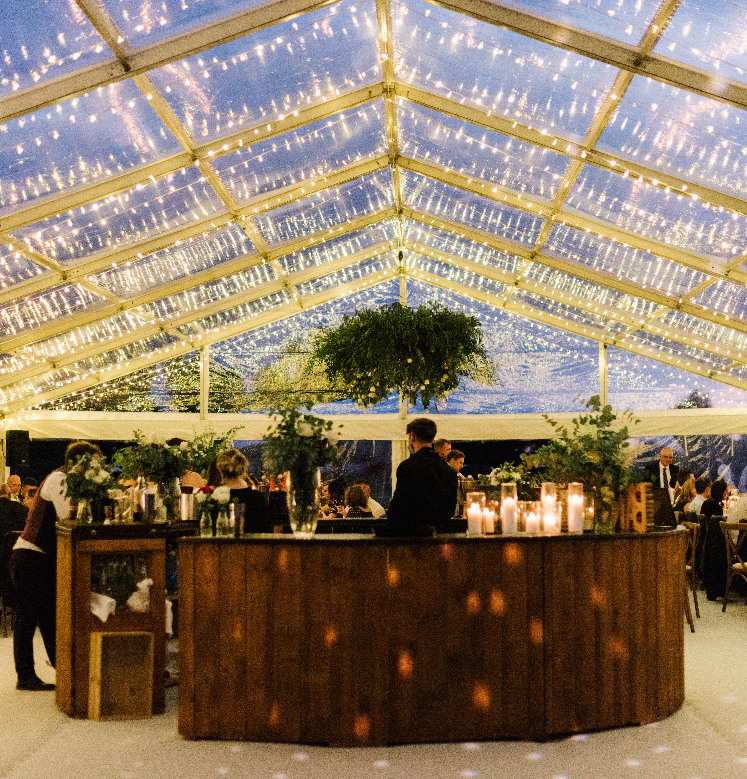 Winter weddings in Hertfordshire


In the winter, we offer equipment which is suitable for the conditions. We have our soft sided frame marquees which can be fitted with clear covers. Or we have our premium range of hard sided/glazed structures on levelled cassette floor.
As a minimum the marquee should be floored, fitted with doors and come with a heating system.
Other things to consider in the winter would be access solutions to the site location. Trackway is often overlooked. But here at Fairytale Marquees, we can offer a turnkey solution suitable for your site.
Learn More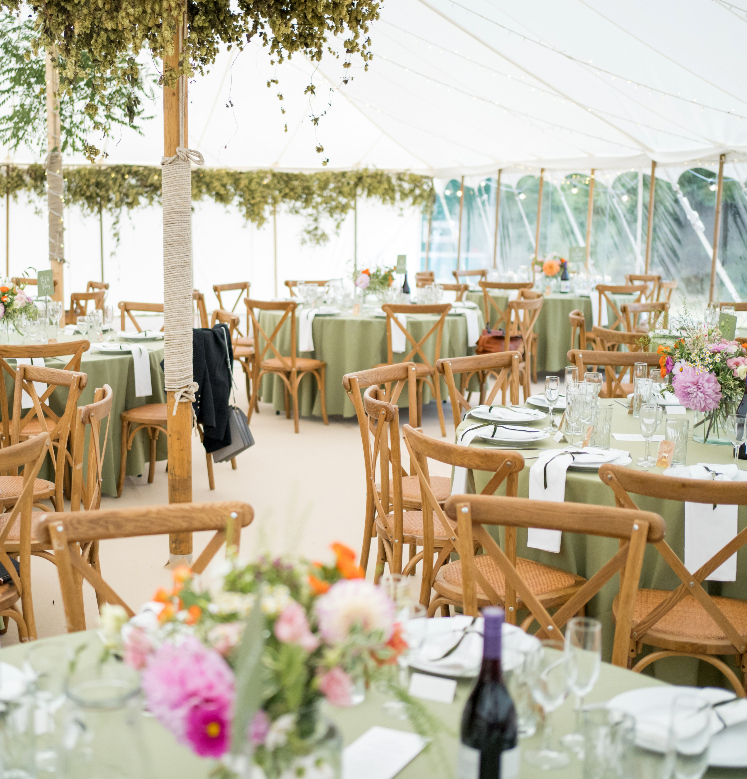 Wedding marquee costs in Hertfordshire


The cost of your wedding marquee will vary depending on the style, options, number of guests and access restrictions of the site. As a rough guide, as of 2022 a wedding marquee typically costs from £4,000 to £8,000 plus VAT.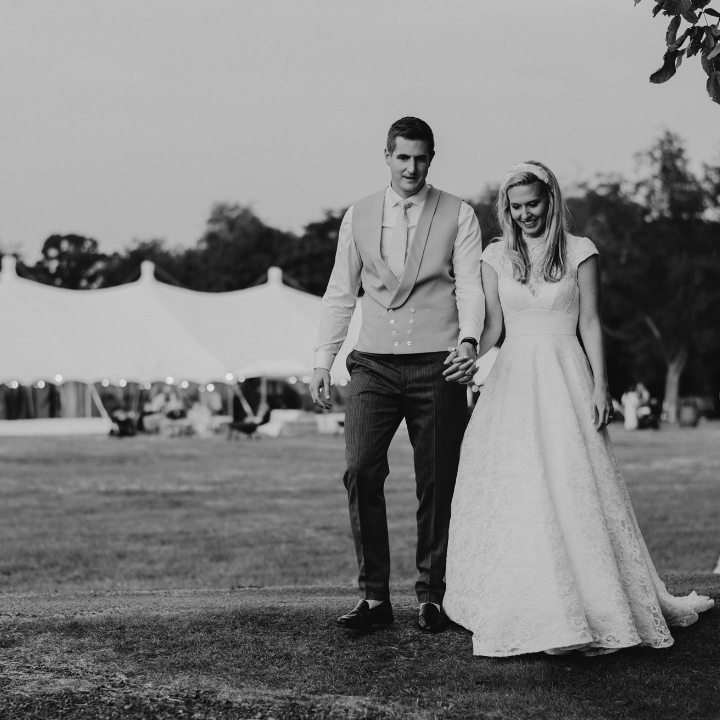 Can you get married in a marquee in Hertfordshire?


Legally you must get married in licenced premises in an immovable structure, but you can hold your reception in a marquee, or use it to perform a standalone ceremony/renewing of vows.
Why Choose Us if you live in Hertfordshire?
As a family run business with over 18 Years' of experience, we are the go-to safe hands in the industry, for hassle free and professional marquee hire. Over the years we have worked for hundreds of private clients, the film industry, Stately Homes, Colleges and even the odd celebrity or two.
We are happy to share our wealth of knowledge and guide you through the do's and don'ts of a marquee wedding. 
We have amassed a large selection of marquees and accessories to cater for most clients' tastes and needs. Feel free to browse our
online catalogue
 for more information.
Industry sectors we cover
- Rustic, Vintage, Contemporary and white wedding marquee hire of all sizes
- Corporate marquee hire and hospitality marquee hire
- School, sporting and charity ball marquee hire
- Film and TV support marquee hire
Our range of wedding marquees are suitable to seat from 20 guests up to 600 in one singular space. Or 10-2000 standing. For events beyond 600 seated or 2000 standing, multiple structures can be linked together.
The size of the structure you require will be dictated not only by guest numbers but other factors as well. The need for reception space, entertainment space and quiet areas within the marquee may have an impact. One of our experienced sales team will be happy to guide you in selecting a wedding marquee size and style which is right for you.

Our marquees can be delivered anywhere in Hertfordshire, Cambridgeshire, Buckinghamshire, Northamptonshire, Bedfordshire and North London
TO SUIT YOUR UNIQUE STYLE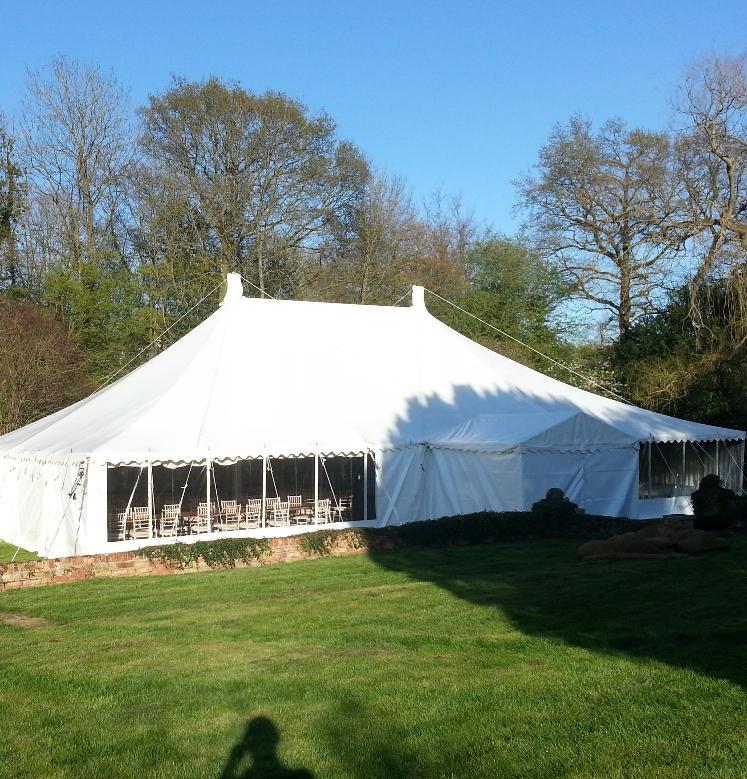 Traditional Pole
MARQUEE HIRE
Traditional pole marquees, as the name implies, are characterised by the central poles supporting the roofs. These marquees can be left in their basic form for
shows, festivals
and
garden parties
. Or they can be fully
lined
,
floored
and
carpeted
to provide sumptuous hospitality spaces. The standard traditional pole marquee is perfect for the quintessentially British white wedding.
Learn More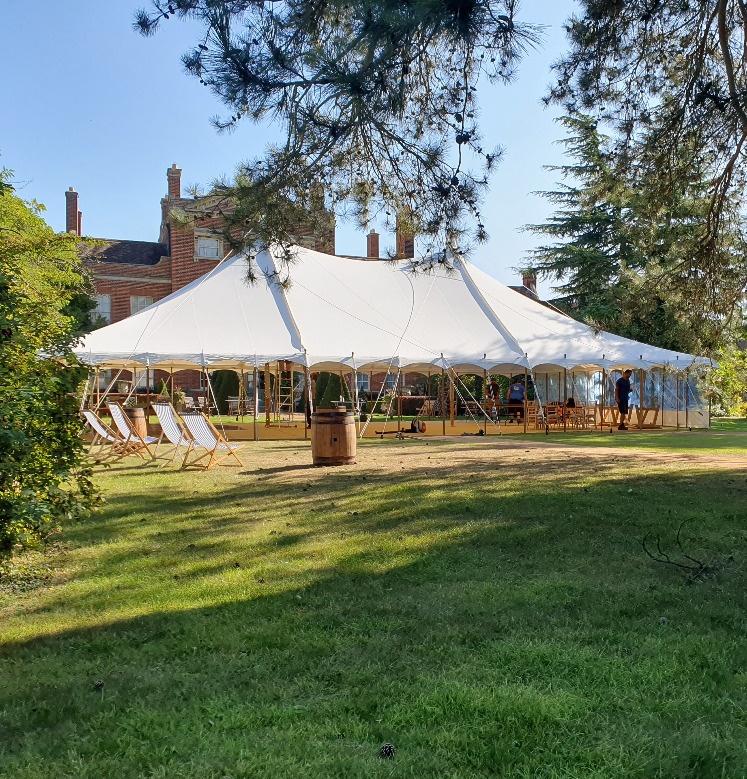 Petal Pole
MARQUEE HIRE
The stunning petal pole marquees are of a similar construction to our standard pole marquees but are designed to cater for the rustic and vintage marquee wedding market. The fabric is a modern composite that mimics the look of the traditional canvas style marquees and the very popular sail cloth marquee. There is a dropped ridge between the roof uprights, and a flowing, scalloped valance all around the outside of the marquee. The king poles supporting the roof are made from timber, as are the poles supporting the eaves. The petal pole marquee is perfectly suited to our range of
rustic furniture
.
Learn More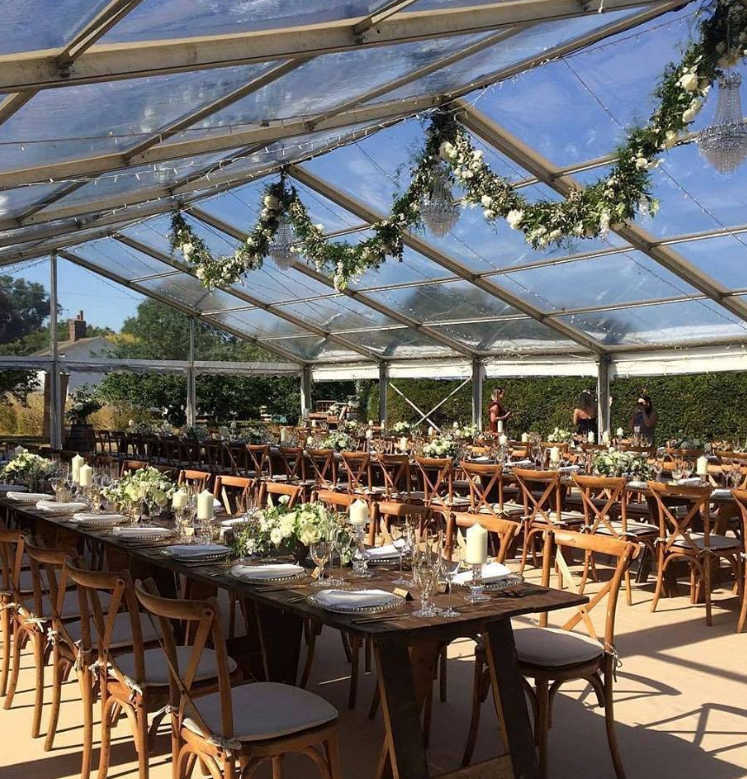 Clear Span Frame
MARQUEE HIRE
For the ultimate in flexibility and cutting edge structural technology, we offer the clear span frame marquees. This can be configured in a multitude of widths and lengths and is available with options such as a full clear roof or partial
clear roof
, internal divides and a wide selection of drapes. We offer
pleated drapes
, flat white drapes,
star cloths
and
reveal curtains
. These marquees have no central uprights, or guy ropes. They are perfectly suited for a variety of applications including
winter hires
, corporate hospitality and contemporary marquee weddings.
Learn More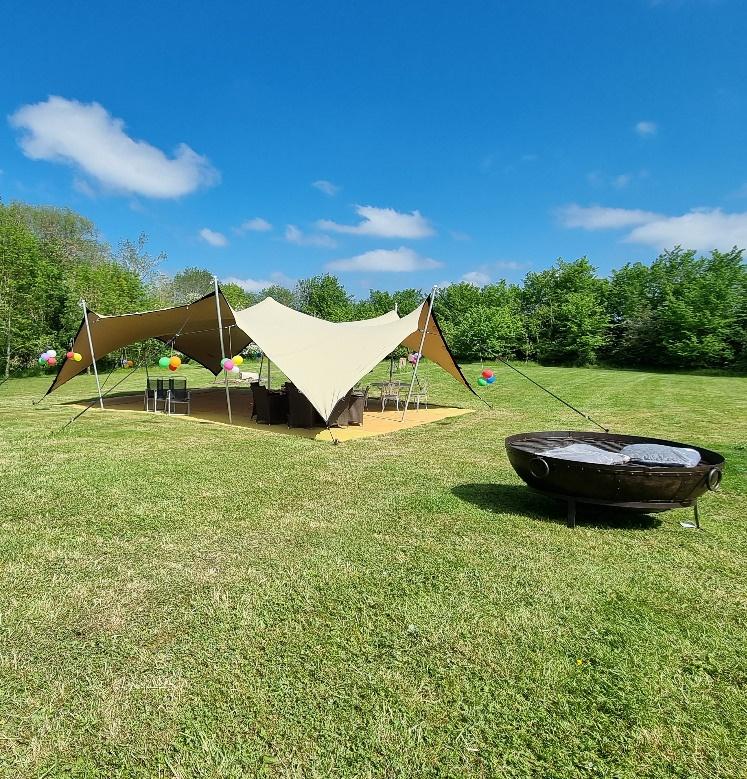 Stretch Tent
MARQUEE HIRE
Our stretch tents make the perfect fun outdoor covering at home or for your business.

Whether it be shade from the sun or shelter from the rain, these versatile structures add a new dimension to your outside space. Chill out lounges, gin bars or even break out spaces, the uses are endless. Whatever the function, there's a stretch tent for every event.
Learn More
What accessories are available for marquees?
We offer a comprehensive selection of lighting, furniture, climate control and decoration to complement and enhance your wedding marquee hire.
Please visit our online shop and have a browse through our catalogue. Click here
what is the process for hiring a marquee in Hertfordshire?
We are great believers in planning in advance. With every job, big or small, we work with our clients to draw up detailed floor plans for individual structures and the overall site. This minimises the need for on-the-day involvement from our clients and ensures smooth and timely installations, without nasty surprises!
Wedding marquees are a fantastic blank canvas to put your stamp on. We have seen all sorts of themes from Harry Potter to a Mad Hatter's tea party. Contact us now and our experienced sales staff are ready to guide you through the options to help create your perfect space.
For more information about how we can help you create the perfect marquee for your next event, call us today.
Do you want to spec the marquee for your specific requirements? Why not use our Marquee Building Tool.
Build my marquee