Christmas party

Winter
Marquee Hire
Warm, suitable winter marquee hire for Christmas Parties and Winter Weddings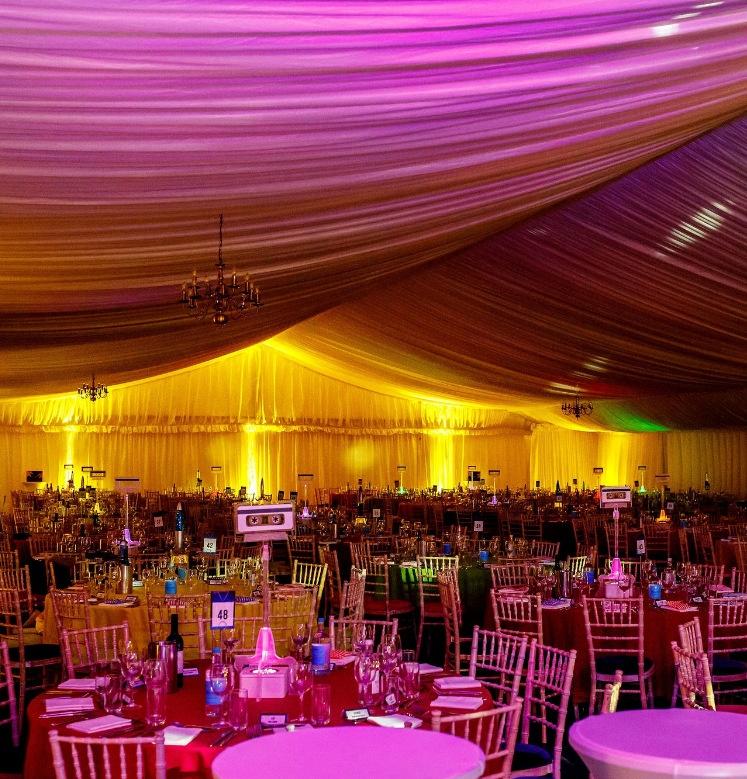 Christmas Party Marquees




If you're looking for a way to celebrate the holidays with your business, or friends and family in style, consider one of our Christmas marquee packages.
Our marquees are flexible and customisable, so they can be used for any Christmas party. They're also affordable and easy to set up, so you don't have to worry about spending hours setting up tables and chairs.
They can be heated, fitted with glazed doors and a hard floor to keep the cold at bay.

For more information about how we can help you create the perfect marquee for your next event, call us today.
Want to spec the marquee for your specific requirements? Why not use our Marquee Building Tool.....
Build my marquee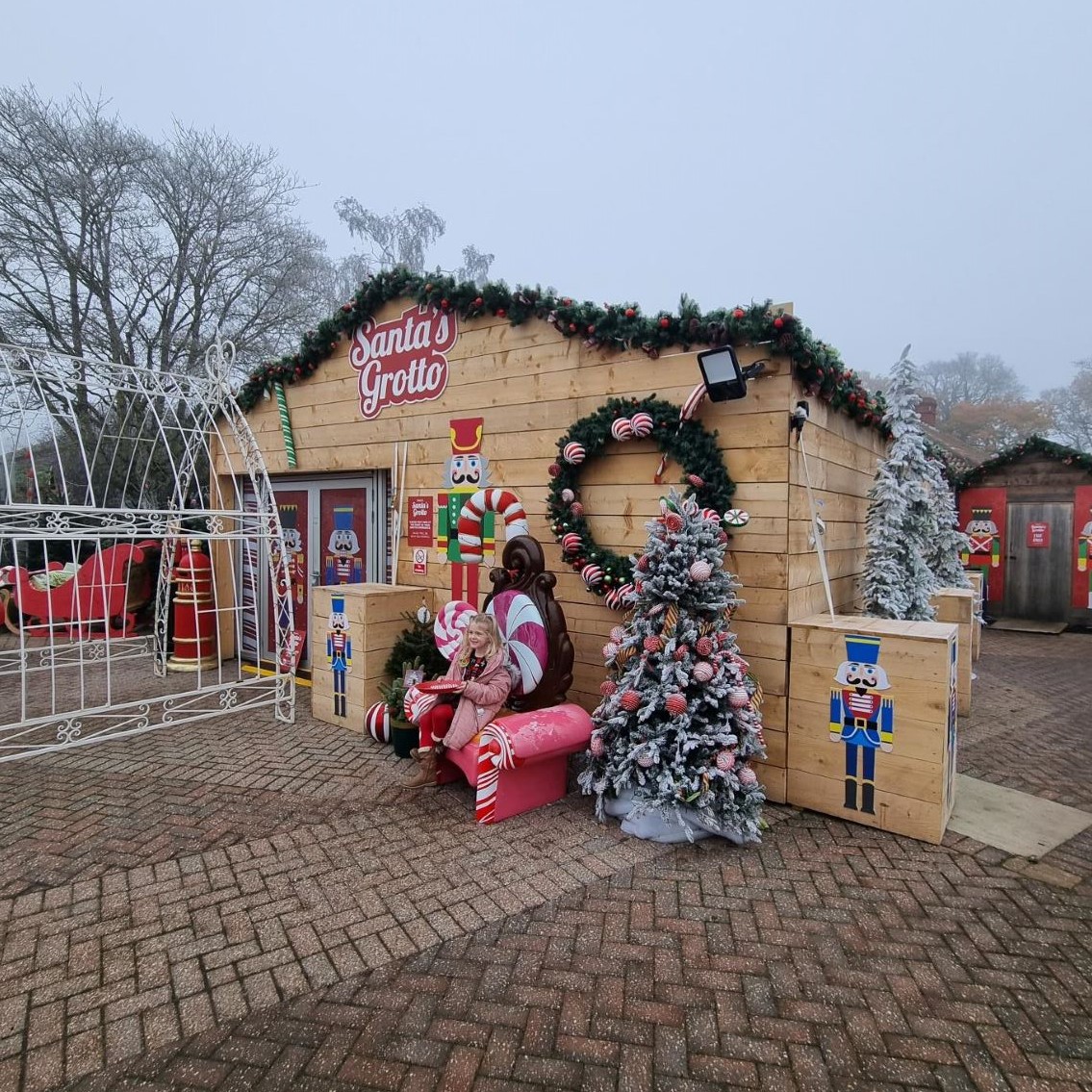 Tailor your marquee to the audience
We offer a range of sizes, so you can choose one that fits your space perfectly. You can even use them in your own garden. We stock marquee widths from three to 15 metres, with structures that can be joined to each other and your home.
For a vintage setting, we offer the traditional pole marquee perfectly suited to a rustic winter party or casual event, while our clear span frame marquees offer flexibility and a more modern feel.
We can optimise the views over your chosen venue by installing a choice of either panoramic PVC window walls, clear roofs, clear gables or glazed sections for a more permanent feel.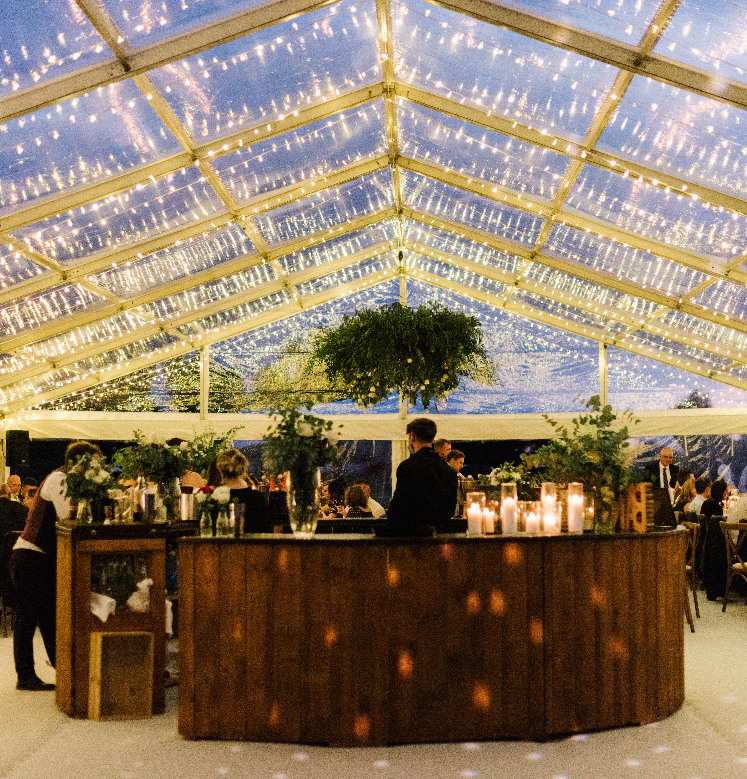 High glamour for a relatively low cost
Party marquee hire prices vary depending on the options you choose, the size of the marquee, travel distance and the access to the marquee site. But typically, as of 2022, the average party marquees costs anywhere from £1,000 to £8,000 plus VAT.
Our winter rates are up to 25% off our summer rates, so it's not just your guests who will enjoy this special holiday season - you'll save on costs too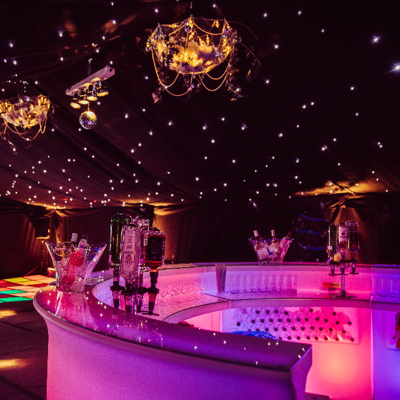 A warm marquee no matter the weather
White wedding or white Christmas, our marquees can be made warm in winter with use of our range of heating systems. For longer term hires, we can fit insulated roofs which greatly improve thermal efficiency. Our range of equipment includes a large diesel fired heater that can quickly warm even the largest of our marquees. We can also offer fuel management solutions for longer events.
All of our heaters are tested and certified yearly for your peace of mind.
Other things to consider in the winter would be access solutions to the site location. Trackway is often overlooked. But here at Fairytale Marquees, we can offer a turnkey solution suitable for the site you choose.
Whether you're throwing a Christmas party or a wedding, a marquee is a great solution for keeping your guests warm and dry in the festive season.
Learn More
For more information about how we can help you create the perfect marquee for your next event, call us today.
info@fairytalemarquees.co.uk
Why are fairytale marquees the perfect choice for your Christmas marquee hire?
As a family run business with over 18 Years' of experience, we are the go-to safe hands in the industry, for hassle free and professional Christmas marquee hire. Over the years we have worked for hundreds of private clients, the
Bedfordshire
film industry,
Hertfordshire
Stately Homes,
Cambridge
Colleges and even the odd celebrity or two.
We are happy to share our wealth of knowledge and guide you through the do's and don'ts of a winter-proof marquee. 
We have amassed a large selection of marquees and accessories to cater for most clients' tastes and needs. Feel free to browse our
online
 catalogue for more information.
Industry sectors we cover
- Rustic, Vintage, Contemporary and
white wedding
marquee hire of all sizes
- Corporate marquee hire and hospitality marquee hire
- School, sporting and charity ball marquee hire
- Film and TV support marquee hire
Our range of Winter party marquees are suitable to seat from 20 guests up to 600 in one singular space. Or 10-2000 standing. For events beyond 600 seated or 2000 standing, multiple structures can be linked together.
The size of the structure you require will be dictated not only by guest numbers but other factors as well. The need for reception space, entertainment space and quiet areas within the marquee may have an impact. One of our experienced sales team will be happy to guide you in selecting a Christmas party marquee size and style which is right for you. 

Our marquees can be delivered anywhere in Northamptonshire, Hertfordshire, Cambridgeshire, Buckinghamshire, Bedfordshire and North London
Selected specifically for the winter months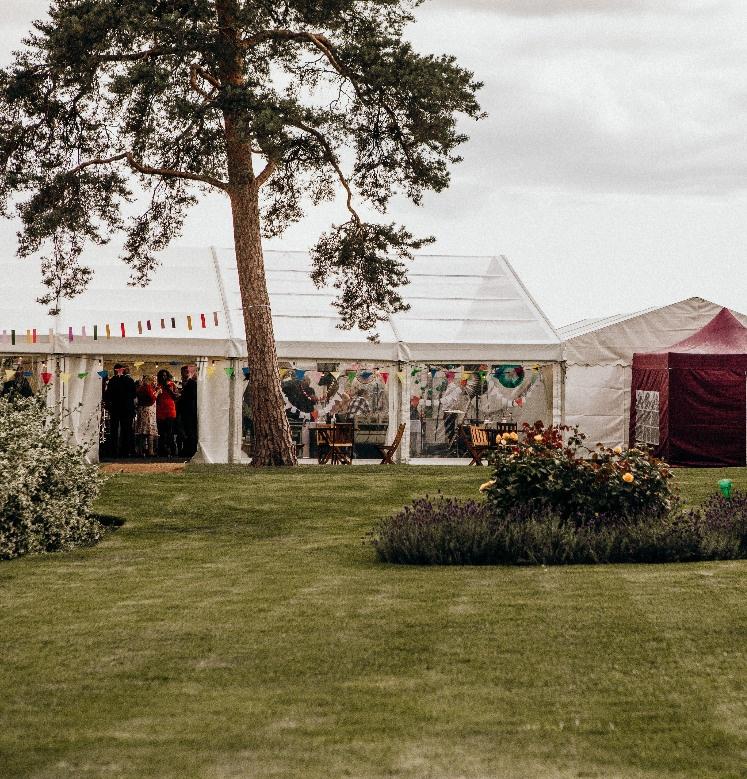 Frame Marquee
MARQUEE HIRE
Our robust frame marquees in conjunction with our interlocking boarded flooring, doors and heating systems are the basis for a suitable winter structure.  Be it for a wedding, birthday or christmas party. These marquees are tough, and can stand up to the worst the great British weather can throw at it.

Available in widths from 3M to 20M wide, there is a solution for most venues.

Best of all are our fantastic winter deals, which can include discounts of up to 25% on selected items.
Learn More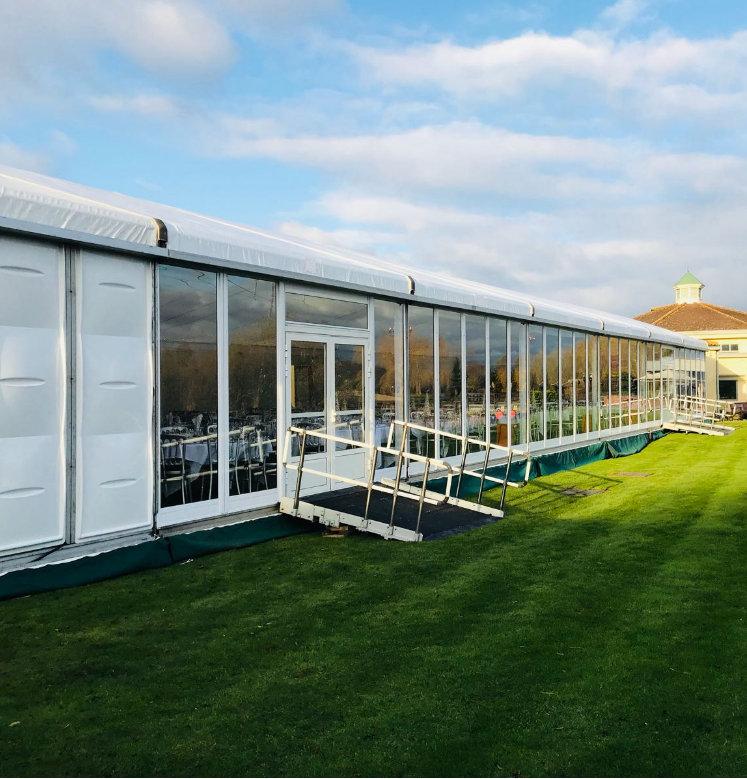 Premier Clear Span Structures
MARQUEE HIRE
If you are looking for perfection, suitable for corporate clients or long term use, we recommend considering our Premium range of frame marquees. On an imporessive 3M eave , they boast hard ABS/Glazed sides, levelled cassette floor and flat white drapes as standard. We can even weight them down so they can be built on car parks and alike.
In combination with our professional heating systems, these strutures really are in a league of thier own.
Learn More
What accessories are available for my christmas party marquee?
We offer a comprehensive selection of lighting, furniture, climate control and decoration to complement and enhance your winter marquee hire. Including glazed doors, heating and hard flooring. 
Please visit our online shop and have a browse through our catalogue. Click here
what is the process for hiring a marquee for christmas?
We are great believers in planning in advance. With every job, big or small, we work with our clients to draw up detailed floor plans for individual structures and the overall site. This minimises the need for on-the-day involvement from our clients and ensures smooth and timely installations, without nasty surprises!
Wedding marquees are a fantastic blank canvas to put your stamp on. We have seen all sorts of themes from Harry Potter to a Mad Hatter's tea party.

Contact us now and our experienced sales staff are ready to guide you through the options to help create your perfect space.
For more information about how we can help you create the perfect marquee for your next event, call us today.
info@fairytalemarquees.co.uk